The National Bio Entrepreneurship Competition 2022 (NBEC)
WIN Foundation
was again the category partner with C-CAMP, for
The National Bio Entrepreneurship Competition 2022
, for the domains of
(i) Water and Sanitation and (ii) Maternal and Child Nutrition.
WIN Foundation has been a category partner in NBEC for the last 3 years.
From the overwhelming response with of 3000+ applications from 35 states and UTs of India, 240 were shortlisted, and from these, 26 finalists were selected through regional rounds. An illustrious 22 member Grand Jury, drawn from Indian biotech industry, partners and funders, judged and selected the winners, identifying India's top bio entrepreneurial talent, at the grand finale on 16th December. at Bangalore. The awards included a cumulative of 16 Cr INR in cash prizes and investment opportunities while student-led teams swooped up 9 lakhs in cash prizes.
NBEC is organized by the Centre for Cellular and Molecular Platforms (C-CAMP), and is sponsored by the Department of Biotechnology, Government of India, along with several reputed partners. It has emerged as the premier national talent competition to identify and reward some of the most promising deep tech ideas in all domains of the Life Sciences.
WIN sponsored domain winners :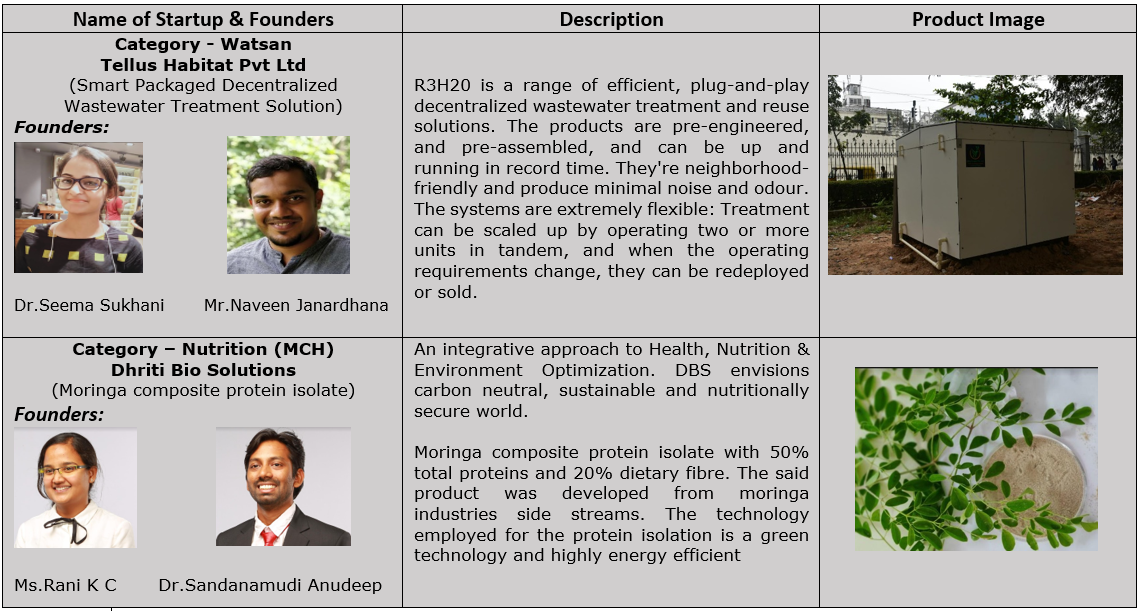 In addition to category award prize, WIN Foundation also offers the opportunity to participate in WIN Innovative products market validation scheme to participants and winners.

To know more, visit : http://www.nationalbioentrepreneurship.in
Nirma University - Students Program:
WIN Foundation has collaborated with Institute of Design, Nirma University to bring student exposure and involvement for social projects. The objective of the program was to build awareness among different influential groups and individuals towards social change.
Under this
program/ course "Media Studies: Study of a Social Campaign'', 26 students enrolled and closely interacted with our women Nutri-preneurs of Saath NGO at Vasna and Danilimda centres, during the course period of 14-20 Nov, 2022. The student made a comprehensive analysis of communications needs of the nutri-prenerus and designed media branding collaterals for our women nutri-entrepreneurs like Nutri-preneur documentary, nutrition promotional materials, product labels, story boards etc.
Ideal Village Conference, Nov 11-13th at BHU, Varanasi:
Our sister foundation,
WHEELS Global Foundation, together with Stanford Ideal Village Project, Pan IIT-Alumni, CII, FIPA and Banaras Hindu University (Institute of Management Studies), organised Ideal Village Conference 2022, with the theme "Rural Transformation for Sustainable Growth", at BHU, Varanasi on Nov 11 to 13th, 2022
It had 6 domain tracks with distinguished speakers. WIN Foundation had participated and put up its stall at the event venue. Mr. Paresh Vora participated in the conference in dual capacity, representing WIN Foundation as its Director - India Operations, as well as representing PAN-IIT-Alumni-India as its Vice-chair.
World Toilet Day 2022 - Making the invisible visible at Solinas Shauchalaya Show - 25h Nov'22

Mr. Paresh Vora, Director-India Operations, WIN Foundation was one of key speakers in the Solinas Shauchalaya Show. It was an online event celebrating World Toilet Day- An initiative by the UN. In this event, discussed the challenges in the sanitation sector and groundwater
WIN session at CEPT :
Mr. Paresh Vora had an interactive session with the students of Master of Planning at CEPT University, on 4th Nov,on rainwater harvesting, its relevance in water conservation in urban areas and as a career option for architect/planning students. He covered basic technical aspects of rainwater harvesting, linked it to their planning course and possible future directions of work in water conservation and WIN Foundation's work in WATSAN. Dr. Mona Iyer, Professor and Dean of Faculty of Planning at CEPT University facilitated the session.
If you wish to opt out of receiving this quarterly WIN Newsletter, please reply to this email mentioning "unsubscribe" in the subject line.